By Destinee Roberts
Halloween is the time for treats and spooky stories. Mostly for the treats, though. Want to be the hit of your Halloween party, and you aren't much into cooking? I can help with that. I have decided to make three delicious treats. 
The first one that didn't turn out quite like I wanted them to, but they are very simple to make. These are great for the kiddos to enjoy, and the clean up is not bad at all. 
Sweetest Spider Cupcakes (featured picture)
Things you need:
You favorite chocolate cake mix

One can of white frosting (You may add food coloring for a desired color)

A piping bag with a narrow piping tip.

Small malted chocolate (Whoppers) to use for the head.

Lindt Lindor truffles (just pick your favorite one).

Any sprinkles you want.

Cupcake holders to go into the cupcake tin.
Directions:
Bake the cupcakes according to how the box says

Put the frosting into the piping bag, and twist the top

Make any design desired onto the cupcake

Add the malt ball and the chocolate onto the cupcake like a spider.

Take a ziplock bag and cut a tiny hole into the corner and pipe out little spider legs.

Use anything for the eyes or any additional details you would like to add.
    If your family likes Reese's, boy do I have the perfect dessert for you. This dessert was a hit. I doubled the recipe because I wanted to make sure I had enough for a birthday party. I decided to go with small cups to make more as well. I ended up making 15, and there were only two left. Now I have to make them for Christmas. I left out the cookie on the top, because I didn't like it. There was a little bit of a bigger mess with this one, because of the mousse, but it is worth it. Hopefully you can surprise your family with this delicious treat as I did.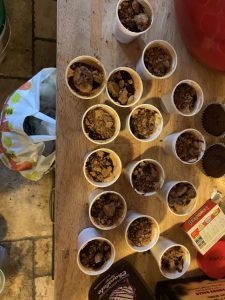 Peanut Mutter Mousse Graveyard Cups
(Makes about 6 cups depending on the size of cup)
Things you'll need:
One cup of Peter Pan Simply Ground Peanut butter.

One cup of heavy whipping cream

Two heaping tablespoons of cream cheese 

Two TBS of powdered sugar

One TSP of vanilla 

Pinch of salt

Chocolate chip cookies (Can be rebought)

Chocolate fudge sauce

White cookies and black icing for gravestones.
Directions:
To start out, you're going to need to grab a medium sized bowl.

Next, mix your peanut butter, ½ cup heaving whipping cream, cream cheese, powdered sugar, vanilla, and salt together. 

Once all of that is mixed up, add the other half of the heavy whipping cream.

In a second bowl break up the cookies – two cookies per cup

Smash cookies into the cup.

Then add the mousse, next chocolate syrup.

Repeat the last two steps one more time.

Grab any kind of cookie and write RIP.

Stick it into the mousse.
If you are running short on time, this is the recipe for you. This recipe took me about 30 minutes, and that's with prep and everything. I had only made eight hotdogs, because we only bought one package. This was almost a no mess recipe, the only thing I had to wash was my hands, the pan, and the pizza cutter. These were adorable.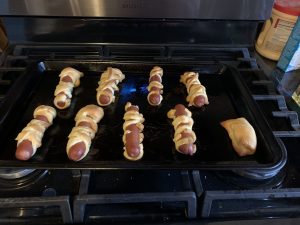 Mummy Hot Dogs
(Makes about 16 hot dogs)
What you'll need:
Two packages of any hotdogs

1 can of crescent rolls

Ketchup or mustard
Directions:
Unpackage all of the rolls.

Cut them in two triangles.

Now with the pizza cutter cut strips horizontally from longest to shortest.

Make sure the bottom pieces are flat.

Start wrapping the hot dogs with the rolls. (Keep room for the eyes)

Bake for about 15-18 minutes
These recipes are some of the cutest and easiest I found. I hope you and your family enjoys these treats.
Websites used:
http://little-white-whale.com/2014/10/creeptastic-spider-cupcakes/
https://www.tonyastaab.com/peanut-butter-mousse-graveyard-cups/
https://www.saltysidedish.com/mummy-hot-dogs/