by Andrea Lenser
Staff Writer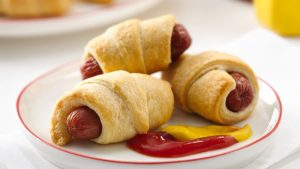 Graveyard Brownies

Recipe:

https://picky-palate.com/fudgy-graveyard-brownies/

                                                             

Brownies can be served for just about any occasion, but instead of eating a typical plain brownie, try making a Halloween-themed one. The best way to make a Halloween brownie is to decorate the top with a little design. For example, the graveyard design on the brownie pictured was made using icing, crumbled Oreos, candy corn, and a wafer cookie. Let your creative juices flow and design a brownie that is as cute or as spooky as you like. 
Frankenstein Rice Krispies

Recipe:

https://www.somewhatsimple.com/frankenstein-rice-krispie-treats/

                                               

Rice Krispies are a favorite treat among people everywhere. Spruce up that ordinary Rice Krispy and try making Frankenstein Rice Krispies! A little green food coloring, icing, and tiny candies is all it takes to create a fun new look for your Rice Krispy. 
Ghost Candy Apples

Recipe:

https://www.myrecipes.com/recipe/spooky-candy-coated-apples

                                               

Candy apples are an iconic fall treat. Why not take them up a notch and decorate them with a Halloween design? You can make ghost candy apples, like the ones pictured, or you can choose another fun design. Better yet, you'll feel good knowing that you are eating something at least halfway healthy on Halloween. 
Candy Corn

Whether it is placed on top of another treat or eaten by itself, candy corn is always fun to indulge in. It is the perfect versatile treat that can be used to enhance many other Halloween desserts. No matter what treat you make on Halloween, be sure to include this iconic fall candy. 
Pumpkin Pie

Recipe:

https://www.allrecipes.com/recipe/23439/perfect-pumpkin-pie/

                                               

Pumpkin pie is arguably the most delectable and popular pie to make during the fall and Halloween season. The creamy pumpkin on top of the soft crust creates a marvelous taste you'll never get tired of. Try making it from scratch at home for a richer taste than a store-bought pie. 
Dirt Pudding

Recipe:

https://www.mrfood.com/Misc-Desserts/Dirt-Cups-2143

                                                                 

Dirt pudding can be eaten any time of the year, but there's no better time to enjoy it than on Halloween. This easy treat you can make in ten minutes is a great choice if you need a last minute delicacy to serve. 
Halloween Apple Cider

Recipe:

https://parentingchaos.com/halloween-apple-cider/

                                                                 

Need a drink to wash down all these Halloween treats? Have some apple cider! This particular recipe is a crockpot apple cider recipe, so others can enjoy the hot apple cider with you. This is perfect to have on hand if you want a Halloween-themed drink along with you Halloween treats and candy.