Despite the stress of performing, the students in the Cougar Pride marching band "band" together to achieve greatness.
by Jacob Torrez/Staff Writer
Dominant Photo Caption: Head drum major Carson Johnson, 12, practices before their rehearsal, from 6:00pm to 9:00pm.
Photo Below: Jaiden Nelson, center snare, 12, also practices before last night's rehearsal.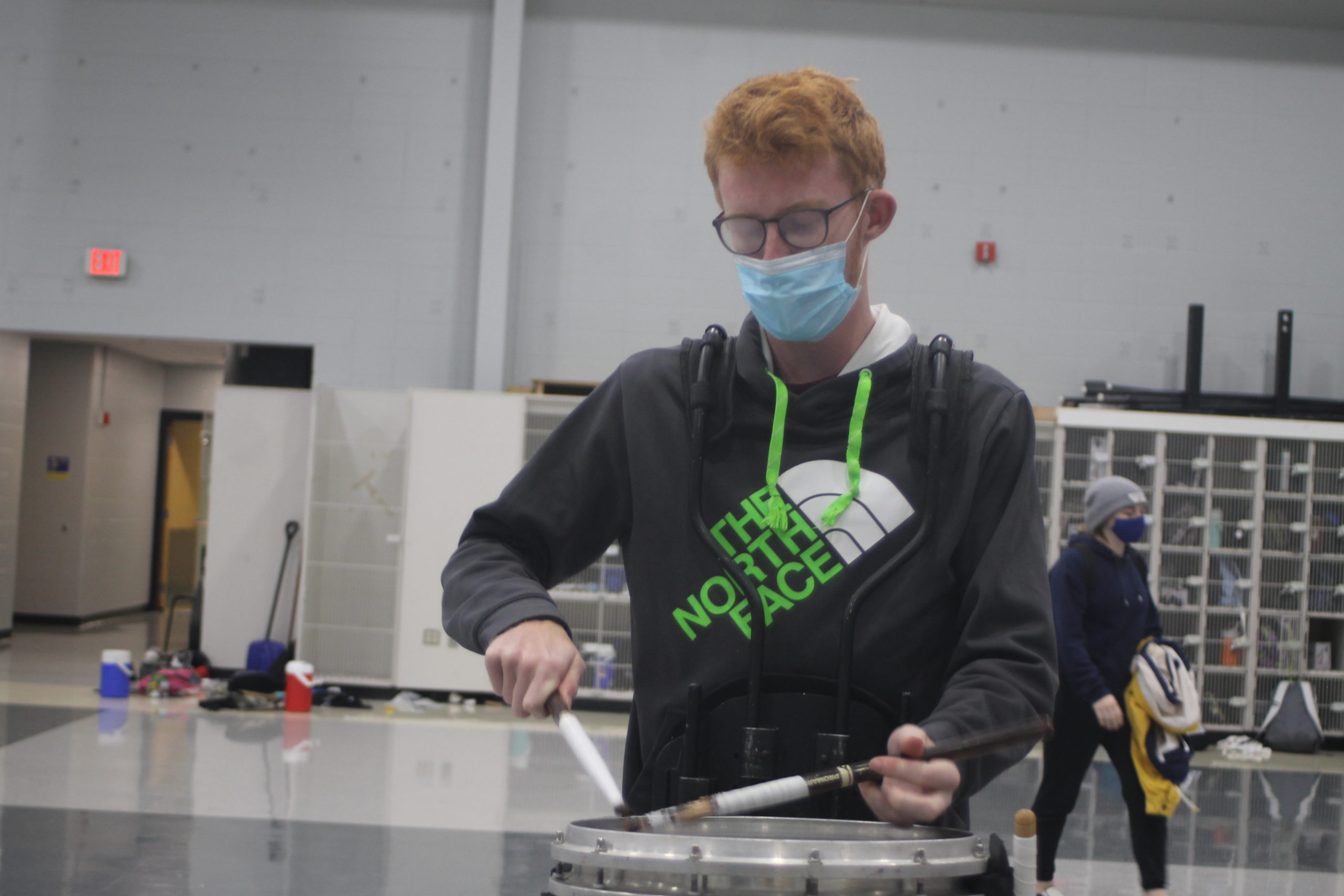 With marching band being one of the most time-consuming activities that the school offers, being within the range of 15-30 hours per week, some question what brings students to work with such prowess. Take Carson Johnson, 12, one of this year's drum majors. As one of the most driven people in the activity, one might ask what made him do it all. The answer? "My love for the activity itself."
He stated, "Sometimes at practice, or when you're staying up late to do homework you couldn't get done beforehand, it's easy to focus on the negative." But what about the 15-30 hour weeks? Committing to an activity for that long must be draining on a person, and for the payoff to be 7 minutes in front of a crowd. Carson replied, "Once I get to Saturdays and those stadium lights hit the field just right, and the crowd cheers and for the next ten minutes we perform our hearts out, it all becomes worth it."
Lynsey Kojima, this year's sophomore representative, weighed in on what gave her the motivation to create art. "My motivation to continue would have to be because of the people. No one is lying when they say that this marching band is like a family. I feel as though I have my own spot in this family. I feel needed and wanted. Those aren't feelings that you could get with just any activity."
Noah Day, this year's junior representative, had a similar response: "Marching band is very much a social activity." He stated, "Everyone else in the group is what motivates me to get through it all. Being the best I can be helps everyone else be their best and enjoy their time in the band."
With the season coming near a rousing finale, the drive to create and thrive in the activity becomes more crucial with every day that passes. With their weeks being so long, one might ask how they can manage all of their other tasks like schoolwork or home activities. Kojima responded: "I tend to self-inflict stress and anxiety about school work. My academic needs are very at the hands of my teachers. Whenever they assign a lot of work, I do get overwhelmed and I strain myself to keep up. Mr. Wing understands this and offers class time to work on assignments if need be. He's told me that if having time to finish assignments is ever an issue, that I can simply ask to finish it during his class."
"Chores and at home responsibilities are a bit different," she continued. "However, my parents are extremely understanding of my time commitment. I'm not expected to do a lot of chores and my mom does my laundry on weeks that I'm rarely home. So far, I have not missed any assignments and I have also not had to sacrifice my sleep schedule."
Johnson said something very similar to what Kojima stated. He said, "We don't practice on Sunday or Monday, so I have all of both of those days to accomplish things like homework and chores. There's also in-school time to do it. Most kids have an EB or cadet block to get homework done, and our directors are very understanding about how tight our schedules can get. If we need a band class off to get some extra work done, chances are they'll give it to us."
Day couldn't help but agree with Johnson and Kojima, stating: "I have plenty of time between the end of practice and going to sleep to do chores or homework. Sometimes it can get a little overwhelming but the directors are understanding when we need some time to get work done."
With their drive to succeed and their will to perform, the marching band has been able to pass through the regional performance and will perform their semi-state show to see if they can move on to state finals.