by Shelby Duncan/Staff Writer
Photo Caption: Angie Mayhue, GC color guard coach, is waiting for the 2019 Pride of Cincinnati show titled "Another Door Opens" to start.
Sean Widmer is the GCHS percussion director. He writes all percussion features along with working with all the kids. He is great with the kids and has made one of the biggest impacts on GCHS. Not only does he impact his percussion students he impacts all of the band and guard students around him. If you ask anyone in the GC bands program if they know Sean, they will say "Of course!" along with a funny story behind it.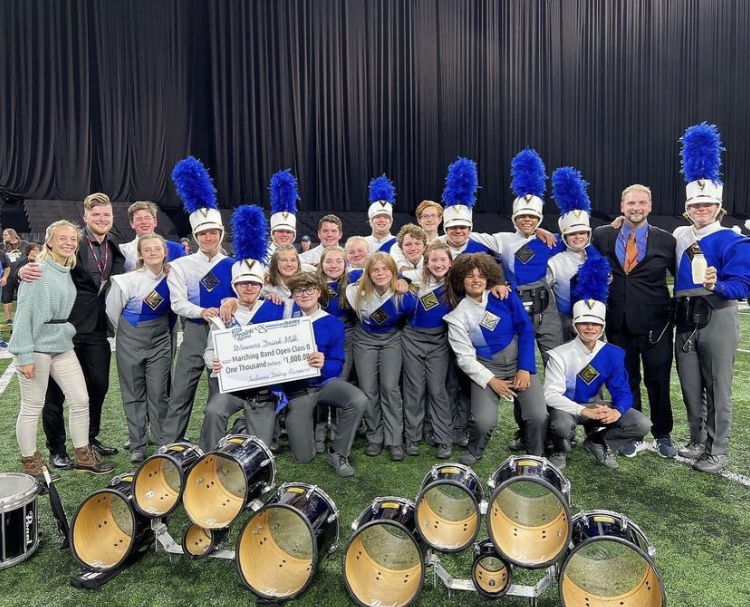 Question 1: What does Sean like about the GC bands program?
A: Sean says: "Our band program is very inclusive to many types of people. It is full of young students who grow as much as better people, musicians, and performers.
Question 2: What was your favorite moment with GC bands?
A: "Of course some of the best moments are state finals and successes through the years, although it's always amazing getting to have fun with students.
Question 3: What was it like winning state a second time?
A: Not as bitter sweet as the first time, but still very enjoyable. It was fulfilling and rewarding for sure. It was unexpected because the band didn't feel as if they did their best run through. Our last show, after our win, we had a much better run though.
Question 4: How has the GC band program changed over time?
A: When I first started here the band was much smaller. There was only one concert band and only one jazz band. The junior high did not have a jazz band and was less involved. It has grown considerably, we now have many bands. Even the space and what we have has changed a lot too. It isn't very difficult to see that we've grown exponentially, as well as accomplishing so much.
Question 5: What are some plans in the future for GC bands?
A: The whole auditorium will change, which is great, helping the band AND the other programs. Our concerts will be more professional and state of the art. We will be able to host people to come in, which is exciting. Hopefully we will win more state championships. And maybe someday be a BOA (Bands of America, national) contender and finalist.
Jeremy Turner, who mainly goes by JT, is the band secretary for GCHS, although he is more than just a band secretary to the students. Many students see him as a teacher; many also see him as a friend and someone they can safely come to. JT has been around the GC program for a very long time and has brought so much positivity and light to the students and the band program. Below is a photo of Sean Widmer and JT.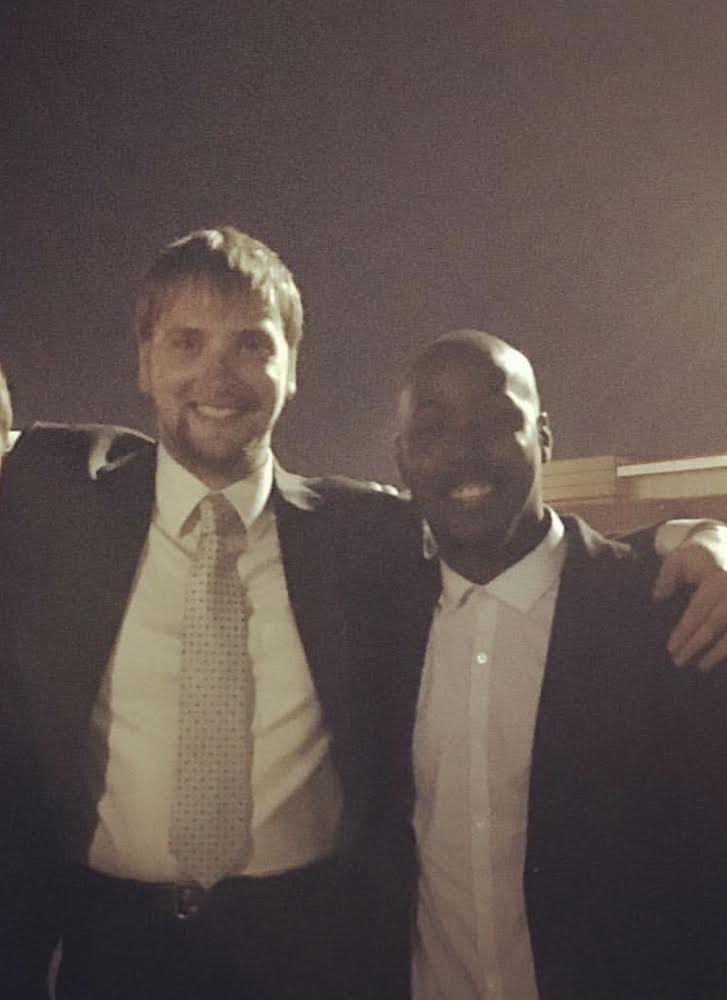 Question 1: How does JT think GC bands have changed over the years?
A: The arts have certainly gotten bigger, and it really feels that the depth and quality have gotten stronger. Mrs. Voigt is doing an outstanding job in the theatre department. The orchestra is exponentially growing also. Mr. Wing has been able to create so much positivity and light for the band's program and the students as well.
Question 2: What are some favorite moments with GC?
A: Guard: Regional A 2018 guard had a show called "Mom" and I loved working with that group. A lot of the people from that season are around today and have truly grown so much.
Percussion: The 2017 indoor group had a lot of issues at state finals, but the show itself was really good and even the kids bought into it. It was a very special moment.
Orchestra: The Christmas concerts were so outstanding and amazing.
Band: The first time winning the State Championships was awesome. The whole day was amazing and so memorable.
Question 3: How did winning state championships change current circumstances?
A: Winning state was a little bit of weight off of our shoulders. We've had years where we were really good, but still not made it to state. To finally get that weight off of our chest, but still knowing the still did amazing all those years. Leading us to be where we are today.
Question 4: How does having such a huge role for the kids make you feel?
A: Everything good that ever happened to me has been developed by these people. Helping these people is why I am who I am. And I will never tell myself that I'm being too kind I can only be as good as I know to be.
Q&A with Angie Mayhue! One of the newest additions to the Greenfield Central Guard.
Who is Angie Mayhue?
Angie Mayhue is a writer and coach to many students across the US, but not only is she a coach, she is also an influence and an idol to her students. Angie went to DCI, a very difficult place to get to, at the age of 17. She became very well known for her amazing work and presence she brought to the activity through social media. She was originally from North Huntington, PA, moving to Indianapolis at 22 years old. She is now a coach and writer for many teams, with Greenfield Central being the group she coaches most consistently.
How old were you when you started color guard?
"I was 12 years old when I started colorguard."
When did you first go to DCI?
"I first went to DCI in 2014, I was 17 years old."
What DCI groups did youmarch?
"I marched Carolina Crown '14, '15, and '16 and Boston Crusaders '17 and '18."
How did you become so well known for color guard?
"I did color guard all throughout high school and I didn't really become well known until I was at DCI. Right around that time I cut my hair, which was a big thing because people saw that as something I was identified by. People would say "Oh that's the girl with short hair!" After my continual posting of choreography and diddy's I wrote, I gained a lot of followers and recognition for what I do."
What's your favorite show overall?
"One of my favorite shows has always been Pride of Cincinnati's Preaching To The Choir 2012. I also really like Flanagan 2011, and Tarpon Springs 2012. I still, as of today, think of those shows as I write and choreograph my work."
What made you continue to pursue color guard?
"My senior year of high school I went to a Carolina Crown camp and I actually didn't want to march at DCI at all. I thought it would be too much of a time commitment and it would take all of my summer. And then 2 of my instructors convinced me that it was something that would make me so much better. They said it would give me a bigger perspective of many other people doing color guard in the country, as opposed to just my little high school in my area."
What is your favorite thing about color guard?
"Overall my favorite thing about color guard has changed over time. When I first started it, it was performing in front of an audience and playing different roles as I perform. Now, it is how creative I get to be when I do it. Whether it is choreography, teaching, meeting new people, or clinics. It is like my personal creative outlet."
How did you become a coach for GCCG?
"When I moved to Greenfield, 3 years ago, I was supposed to teach Greenfield right away. I ended up getting another job though and the timing and everything didn't work out. I have lived with Rico Santiago, the GC guard director, for 3 years now. He has always said "Hey you should come to this rehearsal and see how they're doing." So, the 2018 year I finally decided to come in. It started out as just helping out my roommate to now being my most worked with group I have."
How is GCCG different than other groups?
"I would say that even though GC has had so many obstacles to overcome, I think that each year they always come back and find the love for color guard and why they want to do it again. A lot of seasons we end up losing people, but I think that, in a way, it strengthens the ones who are here and want to continue coming back."
What is a favorite moment you've had with GCCG?
"One of my favorite moments would have to be the prelims last season because I was able to realize in that moment "wow this group has grown exponentially." Even though we didn't make the semi finals I was so proud of the show they finished on and was really glad they ended their season with such a good show."
What's one of your favorite things about teaching?
"One of my favorite things about teaching is being able to influence so many people in the activity. I really like watching the kids grow each season."
What are some challenges you've had with teaching?
"Some challenges would have to be crossing over from student to staff so quickly. It was hard to be sure that they weren't only my best friends, but also the people I'm teaching. Another challenge would be finding different ways people learn. Everyone learns differently, sometimes the way I teach isn't always the best way a person would learn. Teaching techniques are so different for every guard, and learning those different ways can be challenging at times."
What would you want your students to get out of the activity?
"I would want my students to get confidence out of this activity. One of the #1 thing I've learned over all these years is that the more comfortable you are with yourself, the better you do in front of an audience. It took me so long to truly understand the art of performing, but once you latch on to the idea of who you are and I am going to be confident, that helps you in guard, but also in the real world."