by Shelby Duncan/Staff Writer
Photo Caption: Angie Mayhue, GC color guard coach, and the GC color guard staff celebrate receiving gold at the Winter Guard International competition.
GC color guard coach Angie Mayhue is one of the newest additions to the Greenfield-Central Color Guard, but she has already made a great impact on the students in the guard. Mayhue is very well-known for her talent and creativity in the activity and has been able to share that talent with the GC guard program. She seems extremely dedicated to the activity and her students. So, how exactly is Mayhue so well known and so great at what she does?
Mayhue started color guard when she was 12 years old in her hometown, North Huntington Pennsylvania. After some convincing from her former directors, she auditioned for DCI (Drum Corp International), a group of individuals that audition for the best talent in guard or band, at the age of 17. She then marched Carolina Crown '14, '15, and '16, and Boston Crusaders '17 and '18. When she started DCI she became well known on Instagram for her creative choreography she would write.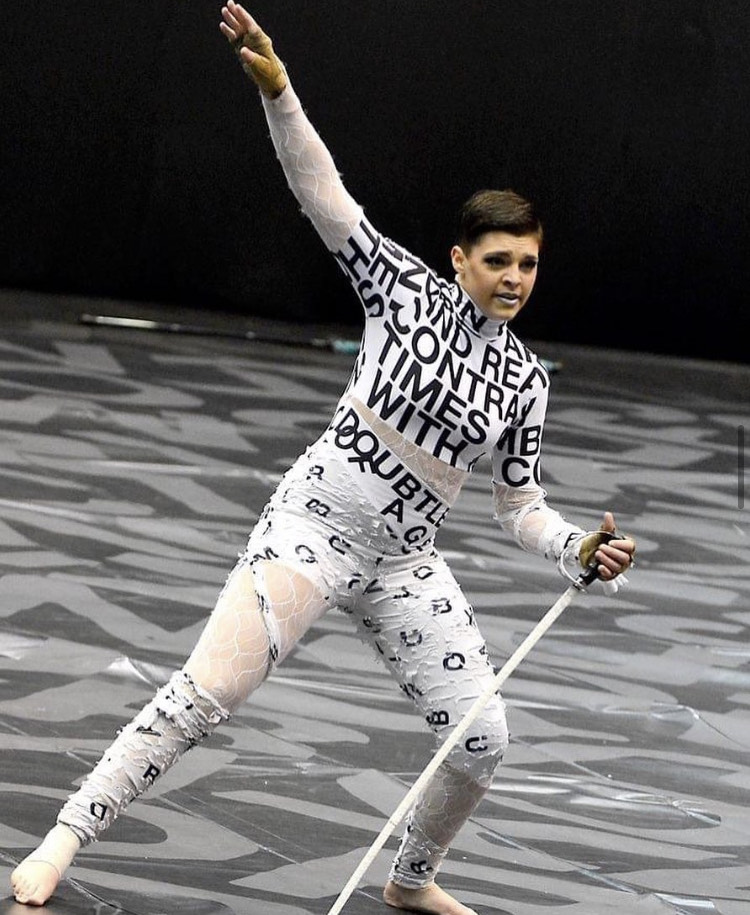 Photo Caption: Mayhue performs in her 2017 Pride of Cincinnati show "The Inevitable Direction of My Life."
Later, she began teaching and writing for many teams, including Greenfield. She strives to always leave a positive impression on her students. Students notice that she is always bringing a great "vibe" or environment where she teaches. Current color guard captain Kylie Huffman, 11, said, "Angie has been able to influence my guard career in many ways. One that stands out to me would be that she has the ability to help me even on my hardest days."
You may ask, "How did Mayhue become a coach for GCCG?" When she moved to Greenfield 3 years ago she was supposed to teach Greenfield right away, but she ended up getting another job and the timing didn't work out. She had been friends with Rico Santiago, the GC guard director, and he always asked her to come in and see how the guard was doing. So, during the 2018 guard year she decided to come in and help him out. It started out as her helping out her roommate, to now being the group she works with most consistently.
One of Mayhue's favorite moments with GCCG happens to be preliminaries from last marching band season, Ramped Up. Mayhue said, "I was able to realize how much the group had really grown in that moment. Even though the team didn't make the semi finals I was so proud of the show they had finished on." She was really glad that they ended with a good show.
Mayhue absolutely loves teaching. She said she really likes that she is able to influence so many people in the activity. She really enjoys watching her students grow each season, although sometimes teaching can be challenging. Every guard has different techniques and ways of teaching. Every student also learns differently. Mayhue said, "Learning these different ways can be difficult at times, but I always try to adapt and enjoy my students."
Mayhue always would like to make a great impact on her students. Mostly, Mayhue said, "I would want confidence to be the biggest thing to get out of the activity. One of the number one things I have learned over time is that the more comfortable you are with yourself, the better you do in front of an audience." She said it took her a long time to understand the art of performing, but once you are able to find that inner confidence, not only does your performance enhance, but you can apply that to other aspects in life.
Photo Caption: Mayhue in an Instagram photo.