Staff Writer: Janna Hopper
We are finally falling right into the holiday season! And what is one of the first things people think of when it comes to the holidays? Food. Sandy Powell, FACS teacher here at GCHS, thinks it is because of holiday specific treats and baking traditions. Janelle Keusch, another FACS teacher, states that "Anytime people gather together, it usually centers around food."
There is no doubt that the holidays have food in abundance, but what are some good options for mealtime? The first important thing to remember is to not overdo it. Keusch says that a great way to stay healthier during the holidays is to have "smaller portions, everything in moderation." Though she does agree that this is easier said than done!
It is important to eat smaller portions to stay healthy after holiday meals, because boy is there a lot of great, but not very healthy, stuff to eat! Both Powell and Keusch agree that cookies are classic holiday treats. As for the rest of the meal, Powell recommends a meat and cheese tray along with popular turkey and ham. Keusch adds casseroles and pies, while also mentioning quicker alternatives such as wings or waffles.
Powell and Keusch each offered recipes to try over the holidays; Christmas Crackle, pecan pie bars, and potato coconut bars. I made the Christmas Crackle, a four ingredient treat that was easy to make with very little hassle.
The first step was boiling two sticks of butter and a cup of brown sugar.
Then, after pouring it over a tray lined with saltine crackers on aluminum, it went into the oven for 10 minutes at 350 degrees.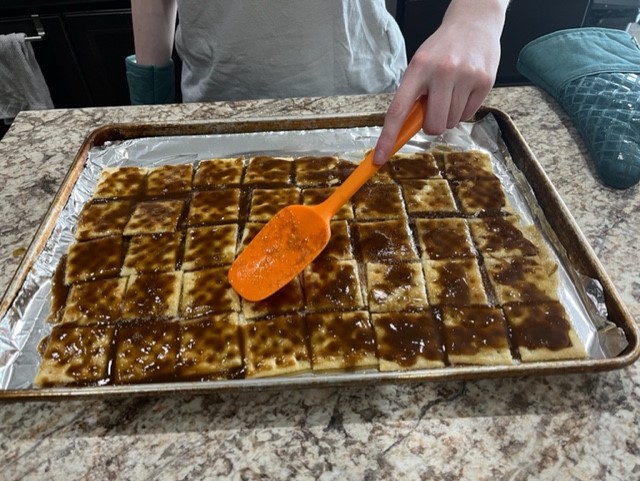 Once it came out, it was covered in chocolate chips. Spreading these out as they melted covered the whole thing in chocolate goodness.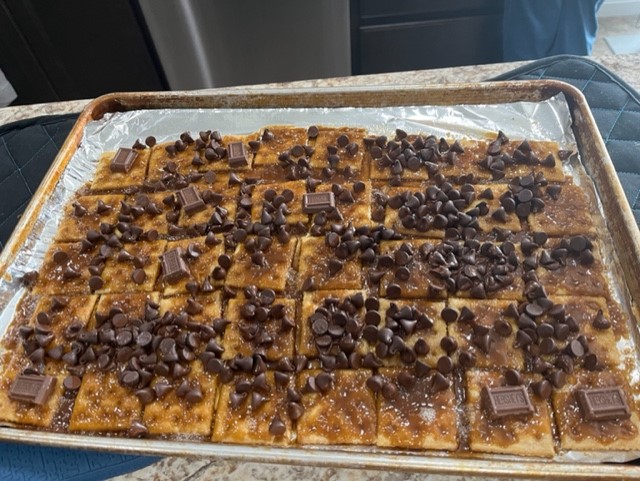 Finally the hardest part: sticking it in the fridge for two hours instead of eating it right away. Tasty and fun, it's a great way to put a dessert on the table without having to go through hours or overnights of trouble!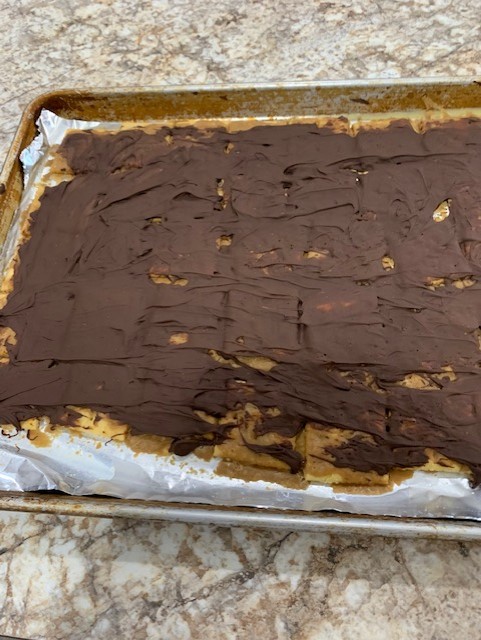 Of course, it is important to remember that the food isn't the most important part of the holidays. As Powell puts it "Sharing stories and laughing together around the table" is one of the best parts of holiday meals. So whether you are eating take out or a huge homemade spread, remember to spend time with those close to you.
Have a happy holidays!
Photo caption: the process to make Christmas Crackle