by Matt Haggard/Staff Writer
As a new school year begins with returning students and teachers, new students and teachers arrive as well.
Ms. Shelby Lewis, Mr. Reuben McCracken,  and Mr. Kevin Potter are among the new teachers.
McCracken came to Greenfield from Hagerstown. He has been a teacher for two years. As a new teacher here at GC, McCracken said that he is "really excited. It is a pretty good environment to work in." He came to GC because he wanted to come closer to Indianapolis, and he applied to schools that he thought were good. "Fortunately this one came through," McCracken said.
        The biggest challenge coming to GC for him was adjusting to a different school climate and working with different people and students, "just making an adjustment to something new." The easiest part about coming here was the people he is working with. "So far everyone has been great. Everybody has been helpful with everything I need. It's just a great staff to be around, everybody is welcoming to have me here." His goal for this year is "just to have a successful year, be more comfortable where I am, and just becoming a better teacher."
Mr. Reuben McCracken
        "I like it; I like it a lot," Mr. Potter said of GC. He wanted to come here because it reminds him of where he grew up, for it has a very similar feel to it. He has many friends in Indianapolis and he wanted to move closer to them "and coming to a really good school for my first teaching job, I was very lucky." Mr. Potter came from IU Bloomington.
The biggest challenge has been "just doing everything for the first time, because every single lesson that I teach, I have never taught before," said Potter. The easiest part about coming was that "everyone I work with, all the other teachers, especially here in the Social Studies department, have been very supportive, and helped me out a lot. They've been a hundred percent accepting and ready to help me at any moment." His goal for this year "is to just get used to it, to get used to teaching and improve my lesson plans, and to constantly be reflecting about what I liked about my lesson plans and what I disliked about my lesson plans."
Mr. Kevin Potter
        As a new teacher here at GC, Lewis says, "I love it here so far. I love the teachers here, very helpful." She wanted to come here to GC because she had a cousin who works at GC and that she wants to live more in the country.
The most nerve-racking part of the job search for Lewis was "trying to get a place that I would fit in and that they would like me as a teacher." The easiest part for her was "knowing that it seems like a home place, and just knowing that I don't have to come here and do everything by myself, such as the other teachers in my math department are willing to help me or help find a solution or the problem. I've got other people here willing to help me," Lewis said.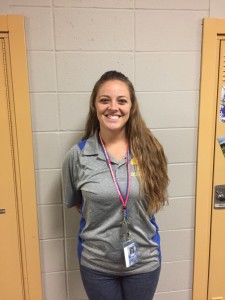 Ms. Shelby Lewis