By Staff Writer Kylie Gibson
Have you ever wanted to make a good dish to your family's house on Thanksgiving, but you aren't the best cook or you just don't know what to make? Well, I've got the best and easiest recipes for your Thanksgiving family dinner.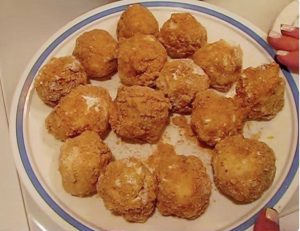 First we have Fried Mashed Potato Balls.
For this you will need:
2 cups cold mashed potatoes
1 egg, lightly beaten
3/4 cup shredded cheddar cheese
1/2 cup chopped green onions
1/4 cup real bacon bits
1/2 cup dry bread crumbs
Oil for frying
Directions:
Place mashed potatoes in a large bowl; let stand at room temperature for 30 minutes. Stir in the egg, cheese, onions and bacon bits. Shape into 1-in. balls; roll in bread crumbs. Let stand for 15 minutes.
In an electric skillet, heat 1 in. of oil to 375°. Fry potato balls, a few at a time, for 2-1/2 to 3 minutes or until golden brown. Remove with a slotted spoon to paper towels to drain. Serve warm.
For my next dish we have cornbread, pictured on the display page. Cornbread is an easy sweet food to make for any event.
For this you will need:
1 1/2 c. yellow cornmeal
3/4 c. all-purpose flour
1/4 c. light brown sugar
2 tsp. baking powder
1/2 tsp. baking soda
1 tsp. kosher salt
1 c. whole milk
1/2 c. buttermilk
2 large eggs
3 tbsp. butter, melted and cooled slightly
Directions:
Preheat oven to 400° and grease a 9″-x-13″ baking pan generously with butter. In a large bowl whisk together cornmeal, flour, brown sugar, baking powder, baking soda and salt.In another large bowl, whisk together milk, buttermilk, eggs, and melted butter. Add wet ingredients to dry ingredients and stir with a fork until just incorporated. Pour batter into prepared baking dish and bake until top is golden and a toothpick inserted into the center comes out clean, 20 to 25 minutes.
Let cool slightly before serving.
Hope this has been helpful! Have a great holiday.