by Christina Keene/Staff Writer
The holiday season is one of the most popular times of the year. People decorate, shop, and bake like crazy. Some of the most popular desserts and treats for the holidays are sugar cookies, snickerdoodle cookies, gingerbread, and fudge. Here are the recipes for these treats. 
Sugar cookies
Sugar cookies are very popular and fun to make. The ingredients for the cookies are 1½ cups of powdered sugar, 1 cup of softened butter, 1 teaspoon of vanilla, ½ teaspoon of almond extract, 1 egg, 2 ½ cups of flour, 1 teaspoon of baking soda, 1 teaspoon cream of tartar. The ingredients for icing is 3 cups of powdered sugar, 3-5 tablespoons of milk, ¼ teaspoon of vanilla, food coloring(optional), colored sugar or sprinkles(optional) First, get a large bowl and beat the powdered sugar, softened butter, vanilla, almond extract, and egg until well blended. Next, stir in flour, baking soda, and cream of tartar. Now, divide dough in half, shape the dough into 2 discs, wrap the dough in plastic wrap, and let chill in the refrigerator for two hours. After you have let the dough chill, preheat your oven to 375 degrees F. Roll each disc out on flat surface until ¼ inches thick. On an ungreased cookie sheet, place cutouts of cookie dough about two inches apart. Bake 7-8 minutes or until edges are light brown. Cool completely. Now to make the icing, get a medium bowl and beat powdered sugar, milk, and vanilla with a spoon until smooth and spreadable. Add food coloring if you desire. Ice the cooled off cookies and decorate as you wish. Let sit for four hours to set. 
Snickerdoodles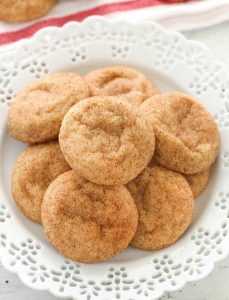 Snickerdoodle cookies are also very popular cookies during the holidays. The ingredients for this is 1 cup of softened unsalted butter, 1 ½ cups of sugar, 2 large eggs, 2 teaspoons of vanilla, 2 ¾ cups of flour, 1 ½ teaspoons cream of tartar, ½ teaspoon of baking soda, and 1 teaspoon of salt. The cinnamon-sugar mixture requires a  ¼ cup of sugar and 1 ½ tablespoons of cinnamon. First, cream the butter and sugar for 4-5 minutes; this is an important step as the butter coats the sugar crystals and creates a smooth texture. Next, use the cream of tartar as a leavening agent, it will give it the signature tangy flavor and chewy texture. A touch of baking soda will help the cookies to rise as well. Now, double roll the cookie balls into the cinnamon-sugar mixture. This helps to make sure the cookies are completely coated in cinnamon-sugar before baking. Finally, bake around 8-12 minutes or just until the edges begin to become a light golden color. These snickerdoodle cookies need to be soft and chewy, so watch them carefully. 
Fudge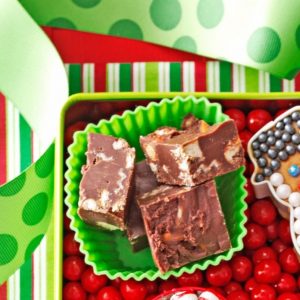 Fudge is loved by many during the holidays. The ingredients you'll need is 1 teaspoon of butter, 1 can, that's 14 ounces, of sweetened condensed milk, 2 cups (12 ounces) of semisweet chocolate chips, 1 cup butterscotch chips, 1 cup chopped pecans, ½ cup of raisins, and 1 teaspoon of vanilla extract. Now, line a 9-in. square baking pan with foil, grease foil with butter; set aside.Combine milk and chips in a large microwave-safe bowl. Microwave, uncovered, on high for 1 minute and stir. Cook 30-60 seconds longer, stirring every 30 seconds, or until chips are melted. Stir in the pecans, raisins and vanilla. Transfer it to your prepared pan. Cover and refrigerate for 2 hours or until firm. Using foil, lift fudge out of pan. Gently peel off foil and cut fudge into 1 inch squares. Lastly, store the fudge in an airtight container.
Gingerbread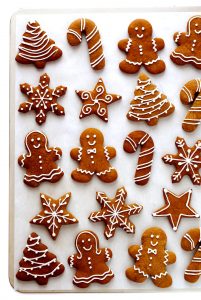 Gingerbread is very fun to make. The ingredients you will need ⅔ cup of unsalted softened butter, ¾ cup of brown sugar, ⅔ cup unsulphured molasses, 1 large egg at room temperature, 1 teaspoon of vanilla extract, 3 ½ cups of flour, 1 teaspoon of baking soda, ½ teaspoon of salt, 1 tablespoon of ground ginger, 1 tablespoon of ground cinnamon, ½ teaspoon of ground allspice, ½ teaspoon ground cloves, and cookie or royal icing(optional). First, in a large bowl using a mixer, beat the butter for 1 minute on medium speed until completely smooth and creamy. Then, add the brown sugar and molasses and beat on medium high speed until combined and creamy-looking. Next, beat in egg and vanilla on high speed for 2 full minutes. Scrape down the sides and bottom of the bowl as needed. If the butter separates, that is okay. 
In a separate bowl, whisk the flour, baking soda, salt, ginger, cinnamon, allspice, and cloves together until combined. On low speed, slowly mix the dry mixture into the wet ingredients until combined. The cookie dough will be quite thick and slightly sticky. Divide dough in half and place each onto a large piece of plastic wrap. Wrap each up tightly and pat down to create a disc shape. Chill discs for at least 3 hours and up to 3 days. Chilling it overnight works too. 
After you have let your dough chill, preheat your oven to 350°F. Line 2-3 large baking sheets with parchment paper or silicone baking mats and set aside. Now, remove 1 disc of chilled cookie dough from the plastic wrap and make a flour work surface. Don't be afraid to continually flour the work surface as needed; this dough can be sticky. Roll out disc until 1/4-inch thick and cut the dough into whatever shape you wish. Place shapes 1 inch apart on prepared baking sheets. Re-roll dough scraps until all the dough is shaped. Repeat with remaining disc of dough.
Then, bake cookies for about 9-10 minutes. If your cookie cutters are smaller than 4 inches, bake for about 8 minutes. If your cookie cutters are larger than 4 inches, bake for about 11 minutes. Allow the cookies to cool for 5 minutes on the cookie sheet. Transfer to cooling rack to cool completely. Once completely cool, decorate as desired. Cookies stay fresh covered at room temperature for up to 1 week. I hope this has helped you find a sweet treat to bake this holiday season.